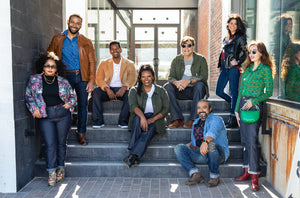 Life's too short to wear boring clothes.
A few years ago, our dear friend and pattern-making guru introduced us to one of our favorite concepts - Total Personal Style. TPS can be hard to define, because it changes from person to person. TPS is when you throw out the rule book, and dress however makes you feel best. TPS is timeless and trendless. It's what happens when someone fully and unapologetically expresses themselves through what they wear.
A person's TPS is ever-changing, but will always maintain cohesive integrity by articulating their unique taste. Every jean we sell is custom-made for someone and their specific Total Personal Style. We'd love to help you show off yours.
What we offer
The standards
Classic for a reason, we offer true blue, indigo denim year-round. This wardrobe staple is available in our standard 100% cotton selvedge and standard stretch. This is a serious pair of raw denim jeans, ready for you to make your mark. You just can't beat the original.
Limited runs
If you're looking to change things up, we also offer monthly Limited Runs. These work like a rotating tap: seasonal denims like heavyweights for winter, linen blends for summer. This is also where you'll find most of our colored denims like black, olive, or gray for a well-rounded wardrobe.
secret stashes
If you're looking for something really funky, keep an eye out for one of our Secret Stash drops. These tend to come around on a whim, and showcase rare fabrics and eye-catching details. These runs aren't for everyone, but they're always for someone.
We make the jeans.
You make them yours.
A pair of jeans can be taken in a lot of different directions. How you incorporate jeans into your wardrobe is entirely up to you. From unique fabrics to customizable silhouettes, we offer jeans that fit your body and your Total Personal Style. We think that wearing whatever makes you happy is always the most on-trend decision you can make.
build your pair