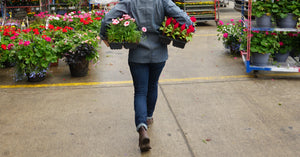 You don't have to look far to find news about just how problematic the global apparel industry is. Very few players in the fashion industry are willing to address the elephant in the room: the incredible waste caused by massive overproduction. In fact, 30% of the 80 billion (!!!) garments that are produced every year are never even sold and go straight to landfill. And of the clothes that are sold, over 50% are disposed of within a year of purchase. Yikes.
Understanding just how gross the existing system is can be overwhelming and depressing. But we're not here to bum you out. We're here because we believe it's possible to change the way things are.
Thoughtful Raw materials
Great jeans start with great materials. We take exceptional care in sourcing high-quality fabrics, threads, and hardware. And whenever we can save materials from the landfill, we absolutely do.
learn more
loved clothes last
We know the most sustainable pair of jeans are the ones you already own. We offer repair services for all denim brands (on the house if it's Detroit Denim). And we know a thing or two about making a pair of jeans that last. So when it does come time to buy a new pair of jeans, you can be sure that you're getting a pair that was designed and built to get better with age.
Learn more
Less but better
We approach sustainability from two angles: production and consumption. We produce less by never making a pair of jeans until a customer asks for it. This means zero waste from over-production.
We help you consume less by creating heirloom-quality garments that are designed to be a versatile and meaningful addition to your wardrobe. You don't need a lot of jeans, you just need a few really great pairs.
sustainable lives
We believe that clothing can only be called sustainable if the people making the clothes are well paid and work in a healthy and happy environment. Our Detroit factory was built around the comfort of our talented makers: full of music, sunlight, plants, respect, and people earning a living wage and then some. You can always feel good about your purchase knowing that your jeans were made in the US by some seriously talented mofos from Detroit.