We are overflowing with joy and gratitude to share this exciting news: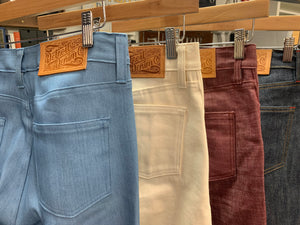 We're opening a store!
We're on a mission to create the world's most sustainable jeans, right here in Detroit. We've been online-only ever since the pandemic shut down our store. Two years later, we couldn't be more excited to back to in-person.
Learn about our mission
see our custom jeans
Est. 2010
handmade in detroit, with love, forever
We're obsessed with two things: designing perfect-fitting jeans, and making them in Detroit. We've been making jeans in Detroit for over 12 years, and are dedicated to help grow Detroit's apparel manufacturing scene equitably and sustainably.
Our story
Say what you need to say!
Questions? Ideas? Recommendations for the new store's playlist? Just generally starved for human connection? Reach out!