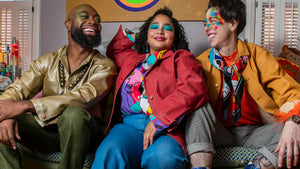 6 fabrics: Each it's own version of bold. Each available in jeans or a jacket, customized to your specs and style preferences. Perfect fits for every body. The possibilities are endless.
Our Spring/Summer 2023 fabrics represent 'rock whatever makes you happy' energy and embodies HYH (Heck Yeah Hype).  It's joyful, it's vivid, it's inspiring. Life is too short to wear boring clothes.
Feel it to believe it
Trying to build out a purposeful wardrobe? We've got fabric swatches to help you plan your purchase.
request a free swatch book