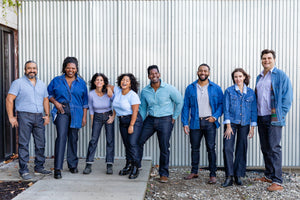 Finding the perfect fit in a pair of jeans can feel almost impossible, especially when shopping online. Most brands only offer "standard" sizes (what does that even mean?) and deal with fit issues by using denim with lots of stretch. While they may fit well on their first try-on, jeans with lots of elastic will bag out after a few wears, and simply don't have the lifespan of jeans made with less elastane.
We approach things a bit differently. We know that any pair of raw denim jeans, whether rigid or stretch, need to fit just right. And we believe that everyone deserves to experience the joy of real, raw denim. This is why we offer jeans in a wide range of body shapes, sizes, and inseams - so that we can provide great fits for every body.
It's pretty great.
our pattern library.
Just like our jeans, we make all of our patterns in-house. We spent an entire decade dialing in our fits, making improvements based on feedback from thousands of in-person fittings of real people with real bodies. We know that exceptional fit only happens with exceptional patterning, and we know that even a quarter of an inch can make a big difference! To see a sample of the different shaped and sized bodies we make jeans for, check out our Jean Builder and play around in the "Size" tab.
check out the jeans
come as you are.
we're here to help!
If you're not sure about your size or shape, we recommend a fitting. Whether in-store or virtually, a Fit Expert will guide you through the process of taking measurements, selecting the right options for your body, and answer any questions you may have. Need a measuring tape? Drop us a line and we'll send you one! Or you can check out our Library which has lots of helpful articles to support you in building your perfect pair of jeans.
Book a fitting
Like, way more.
more options.
Because we manufacture jeans in "batches of one," we're able to offer a vastly wider range of size and shape availability than you'll ever find in a store. Still, we're constantly working on adding new shapes and sizes and always looking for fit models, so if your beautiful body needs something we don't currently offer, please reach out to us!
Send us a note