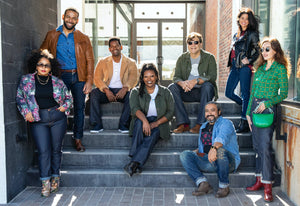 CUSTOMIZE IT!
These jeans are made just for you, so you get to pick all the details.
Leg Style sets the overall style of your jeans. To allow you to select the silhouette that works best for your body and your Total Personal Style, we offer the five following Leg Styles:
skinny
tapered
straight
boot
wide
Looking for something we don't offer yet? Drop us a line to let us know!
Inseam not only impacts fit and the way the jeans lay on your body, but also can make a style statement. Whether you're looking for cropped or cuffed, or you just have trouble finding jeans long or short enough for your legs, we've got you covered.
The debate between button- annd zipper-fly may never be settled. But these jeans are made just for you, and you get to pick whichever you prefer.
We put your name on your jeans' garment label for many reasons. Use your full monicker, or a nick name - it's up to you.
Include a personal message, saying, or quote and we'll sew it into your jeans. It can be silly or serious, as a reminder of what's important to you every time you put on your jeans.