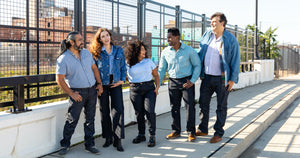 APEC SOM 2
Welcome to Detroit!
Hello there, and welcome to Detroit! The denim bag you're holding (go grab it if you're not, we'll wait) was produced by a stellar team of badass craftspeople.  These bags were made from up-cycled fabrics leftover from previous runs.  
We're on a mission to make the world's most sustainable jeans, right here in Detroit. We do this by never making a pair of jeans until a customer asks for it.  Our made-to-order model means zero waste from overproduction, and it also means you get to customize your jeans just how you want them.
We hope you enjoy your stay in our beautiful city! 
While you're here, we'd love to have you visit us at our new store in Midtown.